---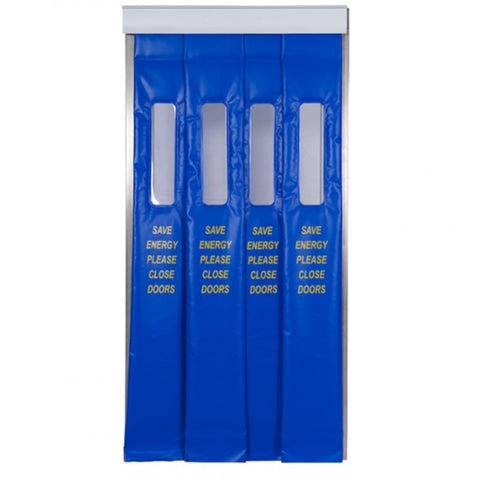 Cold Stop® Insulated Curtain - Individual Strip - Window
---
Individual Replacement Single Strip Complete with Window
Cold Stop® The curtains are a cost efficient thermal barrier based on Tempro® which gives the curtains unique insulation properties far greater than standard types, and resultant energy reductions. Floor ice and its associated hazards are reduced.

Cold Stop® curtains are available in standard widths of 300mm and bespoke heights with deep, clear windows. They are quickly and easily installed.

Cold Stop® curtains are energy efficient and provide reduced wear on evaporator equipment allowing optimum settings to quickly achieve an internal working temperature.

Although proved with sensitive thermal imaging equipment it is hard to believe the outside temperature of Cold Stop® curtains in a freezer can register at 10°C and the inside surface recorded at –21°C. A 31°C difference.
Tempro® Cold-Stop® Insulated curtains provides minimum energy savings of 25% in chillers to 33% plus in freezers.
Maximum return on investment in a minimum time period.
Soft and user friendly and cannot be removed easily by staff.
Low maintenance; easily cleaned, hygienic and easy to repair or replace should damage occur.
Curtains are light, flexible, fit well and do not split thus avoiding the expense of frequent costly replacement.


Field trials indicate the life of the curtain is 5 to 6 times longer than PVC strip types, providing substantial capital savings.
Unique 'cold lock' system ensures that curtains fit neatly and effectively to the floor and ceiling, saving costly energy. Unique patented header arrangement is a design and efficiency breakthrough.
Tempro® has been shown to save up to 33% on energy bills and significantly reduce your carbon footprint. Below are typical figures gathered showing savings we would expect from these standard door sizes (These were taken with an ambient of 15°C and an internal temperature of –17°C).

---
More from this collection