---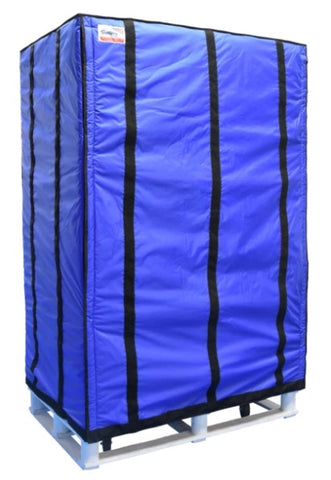 Tempro Insulated Adjustable Pallet Cover
---
Tempro Insulated Adjustable Pallet Cover
The unique Tempro® Thermal Adjustable Cover extends in height from 900mm to 1800mm and is ideal for part reducing or varying pallet loads. It folds flat when not in use.  This cover is outstanding at keeping chilled or frozen goods in their own environment for extended periods in alien conditions.


It increases payloads, provides economic mixed loads and improves delivery turnaround time. Achieves temperatures never previously considered possible. As the load diminishes the cover height can be adjusted, increasing the thermal protection for remaining product
Tempro® covers save time by-passing cold rooms and reduce labour and transport costs by 60%.
Palletise goods will be temperature  protected. 
Tempro® covers enable mixed  temperature loads on any vehicle to provide significant cost savings. 
Tempro® covers offer outstanding  Thermal protection in aliens conditions. 
Tempro® covers can be height adjusted using Velcro to suit the load. 
Working lives of covers can be extended by repair or the covers can be recycled.
Technical Specification
External material is Blue PU Nylon and White PU Nylon internally.

Insulation grade is TF25 Standard Tempro® with an intrinsic thermal resistance of 0.66m²K/W.

Tempro® is Fire Retardant to BS 5867: Pt 2 1980.
---
More from this collection