---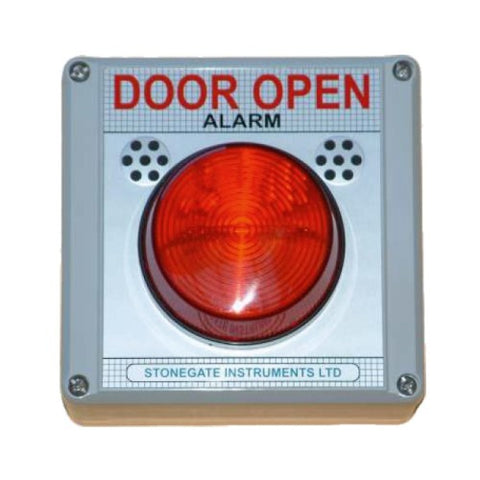 Door Open Alarm 276A
---
Door Open Alarm 
The Door Open Alarm is a large and loud warning device to indicate when a coldroom door has been left open for an extended amount of time. Flashing Xenon/LED Beacon and two 100dB sounders provide audible visual warning. An adjustable delay of up to 30 minutes can be pre-set and the sounders can be delayed or independently disabled
Lead time approx 4 working days.
Specification:


Visual: 1 watt LED Strobe in a red dome beacon. 100 flashes per minute. Other colours available on request.
Audio: 2 x 100dB piezo sounder, 3kHz pulsed at 2Hz.
Timer: Approx. 0 to 60 seconds, or 1 to 30 minutes.
Enclosure: Light Grey ABS.
Dimensions: 120mm x 122mm x 90mm
Supply: 230VAC, 40mA drain, 100mA internal fuse, or
12VAC/DC. <350mA peak.
Relay Output: Normally energised volt free changeover.
Rated 230VOLTS A.C., 2A resistive.
Connectors: 5mm pitch screw terminals, 2.5mm
maximum wire size.
External switch: Volt free, rated at 12V either Normally
Open or Normally Closed.
Connectors: 3.81mm pitch screw terminals, 1.5mm
maximum wire size.
---
More from this collection